Inform
NPSuisse actively supports the concerns of Niemann Pick sufferers and other rare disease patients. NPSuisse also wants to inform.
December 28, 2019: A piece of home for seriously ill brothers of Heerbrugg (St. Galler Tagblatt)
The two sons of the Benz family from Heerbrugg have Niemann Pick, an extremely rare metabolic disease. The parents have rebuilt the house so that they can continue to come home. The fundraising campaign for the help of Eastern Switzerland has supported it. Full story

November 07, 2019: Hotspot Brain (Handelszeitung)
Alzheimer's Research has had a tailwind since Biogen's possible breakthrough. But where does Switzerland stand? Full story
October 8, 2019: Identifying Rare Diseases In Newborns (prnewswire)
Pediatric genetic expert Dr. Melissa Wasserstein has been awarded $3.2 million from the National Institutes of Health (NIH) to conduct the most expansive consented pilot newborn screening study in the country, known as ScreenPlus. Newborn babies are currently screened for between 30 to 50 disorders depending on their state. Dr. Wasserstein and New York State Newborn Screening Program colleagues Drs. Joe Orsini and Michele Caggana will offer parents at eight New York hospitals the option to have their babies screened for an additional 13 disorders. Full story
April 28, 2019: Three teams for NP Suisse at the Zurich Marathon
Three teams competed at the Zurich Marathon for NP Suisse today. All teams have shown great commitment. Thank you very much! Results Team 1, Results Team 2, Results Team 3.
March 9, 2019: 8th Annual General Meeting of NPSuisse, Kultursilo Hünenberg
The NPSuisse family met today at the 8th general assembly in the cultural silo in Hünenberg. After the compulsory part, Dr. med. Tatiana Brémova has a lecture about the drug "Tanganil" and the effects on NPC patients. After the meeting followed the traditional Raclette and the dessert buffet.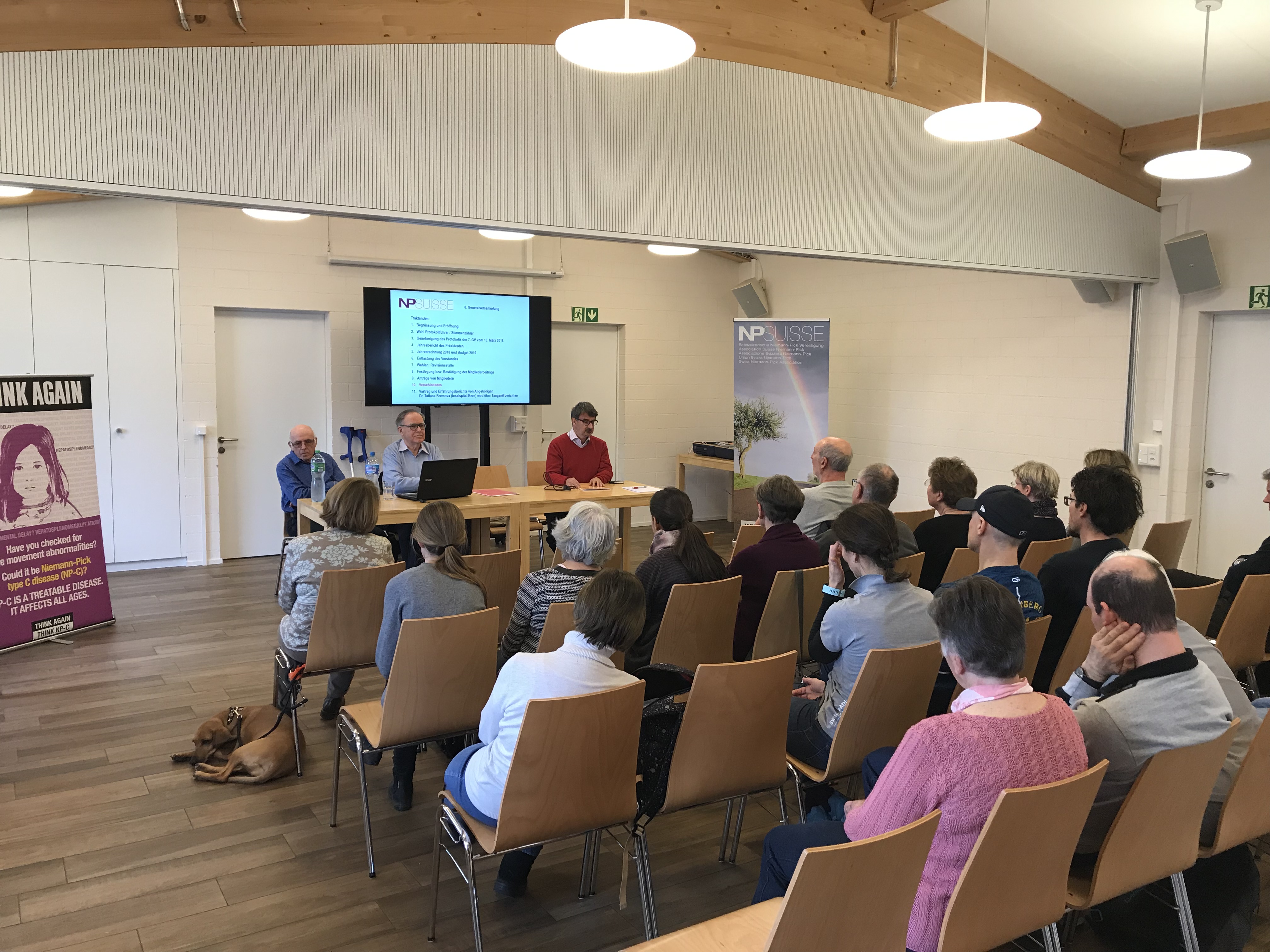 June 14th, 2017: Charity-Shop in favor of INPDA
The Pactimo on-line charity shop supporting the International Niemann-Pick Disease Alliance (INPDA) is now open! Summer is coming, get biking suit or sports T-shirt for you, your biking/sports team, family, friends, or friends of your friends! Your purchase will provide support to charity projects of INPDA and help to promote the Think Again-Think NP-C campaign to a worldwide public. Thank you on behalf of the global INPDA community! To the shop.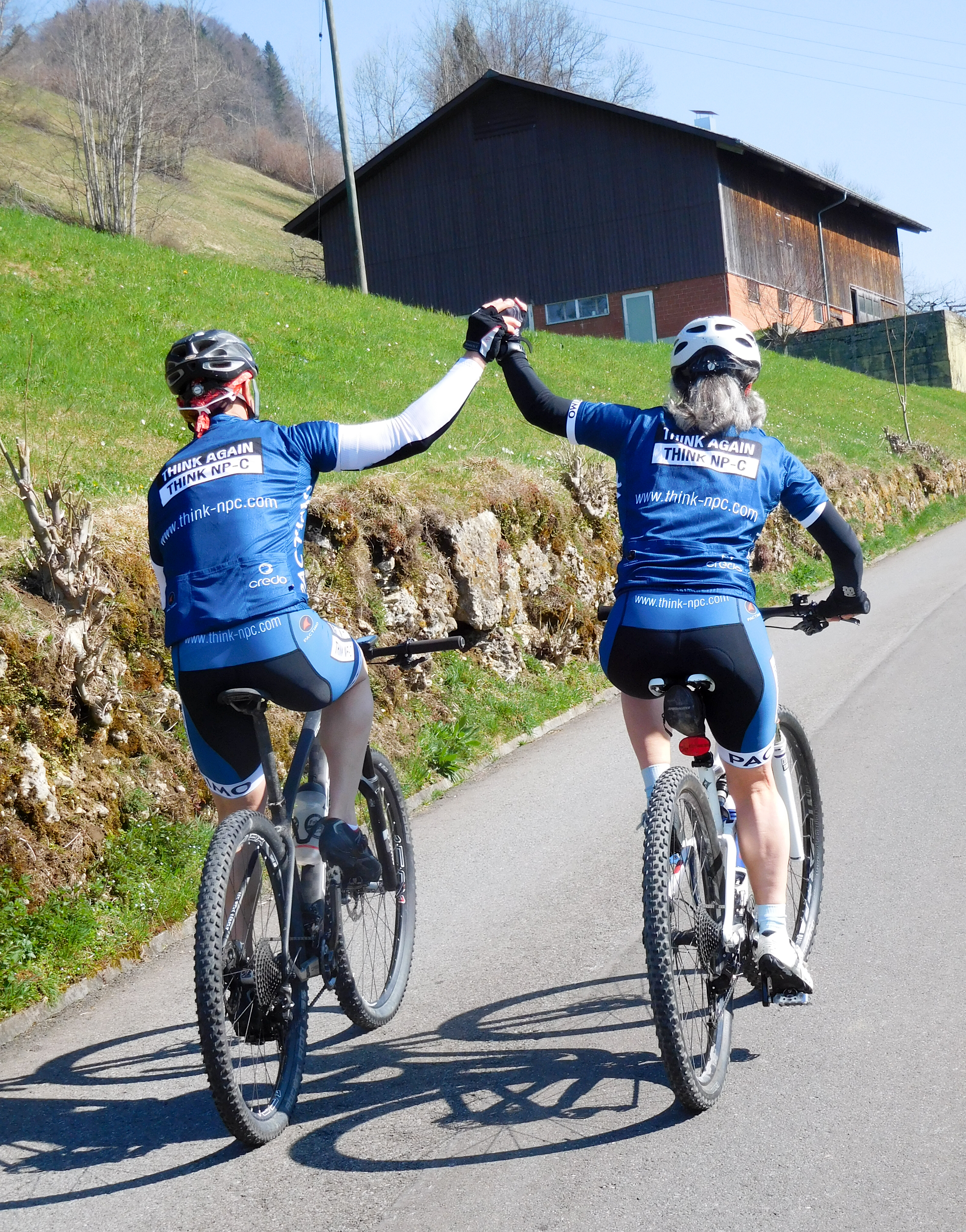 April 4th , 2017: Takeover of Vtesse by Sucampo (finanzen.ch)
Sucampo Pharmaceuticals and Vtesse declared today that Sucampo acquired Vtesse for a down payment of 200 million USD. Sucampo finances this acquisition by the release of 2.782.678 class A common shares and by 170 million USD in available cash. An external financing was not necessary. press release.
March 15th, 2017: Achievement of enrolment of patients for the Cyclodextrin clinical study (Vtesse)
Vtesse has sufficient patients enrolled to perform the clinical study phase IIb/III with VTS-270 against the Niemann-Pick disease Typ C1. The company expects to remit the results to the authorities and publish them in 2018. More details under press release.
December 1st , 2016: First concerned then becoming specialist (Newsletter Alzheimer Switzerland)
Rare diseases are particularly bad for patients and their relatives. Very often the diagnostic follows a long and energy-sapping check-up. After the diagnostic, helplessness follows, because in a majority of cases the science is not enough advanced and the drugs are missing. It is not seldom that the fight against the disease is taken over by relatives, as it happened, for instance, with the Poincilit family. Full story in German..
July 25, 2016: More money for Cyclodextrin study (Vtesse)
The US pharmaceutical company Vtesse secures additional 17 million US dollars to support further product development and expands the current Cyclodextrin clinical trial for the treatment of NPC patients. Full story in German.
June 15, 2016: First patient in Arimoclomol clinical study received medication (Orphazyme)
The company Orphazyme has begun dosing in patients with NPC in the Arimoclomol trial. The whole press release.
May 2016: The hope of Lili (GEO 05/2016)
"It itches in my brain," said Lili at the age of 6 years. Even then her illness undoubtedly progressed: the mysterious Niemann-Pick syndrome. One of the many ultra-rare diseases which we can not cure. A disease that leads families of patients to their limits. A disease that poses a challenge to our health system. Full story in German.
April 6, 2016: Ring-shaped sugar helps atherosclerosis (University of Bonn)
"The outcomes of atherosclerosis are among the leading causes of death in industrialized countries: these include mainly heart attacks and strokes. Crystalline cholesterol can contribute to life-threatening inflammation in the arteries. An international team of immunologists and cardiologists at the University of Bonn has now found that the ring-shaped sugar "cyclodextrin" may prevent and even regress dangerous deposits." Full story in German.
March 12, 2016: 5th General Assembly of NPSuisse
General Assembly of NPSuisse was held on Saturday in Hünenberg - with international guests from Germany and England and also CVP Parlement Member Gerhard Pfister was on site. Photos on Facebook. Minutes of the GA.
February 28, 2016: Rare diseases cause lots of problems (ZAS)
"Tomorrow, February 29, is the International Rare Disease Day. Rare sounds associated with diseases as an interesting issue. But rare diseases have disastrous consequences for patients." Full story in German.
February 27, 2016: Our world is broken in pieces (Gelnhäuser Newspaper)
Diagnosis of Niemann-Pick disease: The host couple Appel talks about the rare metabolic disease of their son Maximilian. Full story in German.
February 27, 2016: Hope, fear, life (Media Planet)
"Mael carefully reads the full sentence in his reading book. The nearly eight-year-old boy from the Canton Lucerne attends the second class. This is a regular class. Except this, everything else is different in Maels life. He has a rare disease. Mael was born on 18 April 2008. As firstborn by happy parents with two younger brothers. Full German report in Mediaplanet.

February 22, 2016: When a family slowly loses her children (Aargauer Zeitung)
Marko (17) and his sister Valeria (12) suffer from the deadly metabolic disease Niemann Pick C. All what they could once do is no longer possible, - walking, talking, thinking, swallow. Mother Milijana Petric reported about her daily hopeless life. Full story in German.

February 22, 2016: Death is for me a serious opponent (Migros Magazine)
About 500 000 people in Switzerland suffer from a rare disease. The cause is often simple, sometimes complex and sometimes mysterious. A case for Professor Jürgen Schäfer, the German «Dr. House ». Full article in German.

February 10, 2016: Positive signals for Orphazyme's Arimoclomol study  
EMA's Paediatric Committee (PDCO) recommends that the Committee for Medicinal Products for Human Use (CHMP) approves Orphazyme's PIP for use of arimoclomol in treating patients suffering from Niemann-Pick disease type C (NP-C). Further information.

January 6, 2016: FDA gives Vtesse the "Breakthrough Therapy" status (finanzen.net)
As Vtesse announced today that the US Food and Drug Administration (FDA) has given its drug candidate VTS 270 for the treatment of Niemann-Pick disease type C1 (NPC) the "Breakthrough Therapy" status. See full article at finanzen.net
January 5, 2016: "There is no right to a healthy child" (NZZ)
The Emeritus Professor of Philosophy Otfried Hoffe considered the developments of pre-implantation diagnosis with concern. Full German article in the NZZ.
January 5, 2016: "Where there are differences, I stand for FDP" (NZZ)
The liberal faction leader Ignazio Cassis comments on health insurance lobbying, doctors stop and universal cantonal financing. Full article in the NZZ